About Dr. Lambie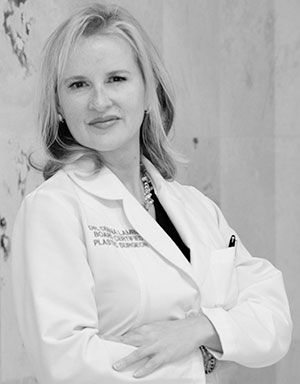 Dr. Diana Lambie is a Board-Certified Female Plastic Surgeon serving the Orlando, Florida area.
Dr. Lambie received her undergraduate degree from the University of Michigan. She attended medical school at the Des Moines University of Osteopathic Medicine. After 4 years of medical school and a 5 year surgical training at Botsford General Hospital in Farmington Hills, Michigan she completed a 2 year fellowship in Plastic and Reconstructive Surgery in Philadelphia and New York City with some of the world's top plastic surgeons. Dr. Lambie practiced in Michigan and was an award winning reconstructive and cosmetic plastic surgeon.Prior to joining the team at Advanced Aesthetics Plastic Surgery, Dr. Lambie operated her own practice in the Metro Detroit suburbs, and also practiced at Henry Ford and Botsford Hospitals. Dr. Lambie is a devoted mother who is committed to her work as a plastic surgeon.
At Advanced Aesthetics in Orlando, Florida, Dr. Lambie is known for her dedication to excellent patient care and her exceptional surgical skills. Dr. Lambie will listen carefully to your goals and explain your options. Above all, she will strive to provide results that exceed your expectations.
"Dr. Lambie is beyond sweet and amazing. She is a down to earth woman who makes you feel comfortable…I have 4 people in my family with breast augmentation from the best doctor on the east coast- theirs are all amazing, MINE ARE BETTER". -Liz, Oakland Co, Michigan
Dr. Lambie has earned extensive educational and professional credentials, including:
B.S. from University of Michigan, Ann Arbor
Completed medical school at the Des Moines University of Osteopathic Medicine
5-year Integrated Surgery Residency at Botsford General Hospital
2-year Plastic Surgery Fellowship with Top Plastic Surgeons in NYC and Philadelphia
In addition, Dr. Lambie has authored and co-authored many peer-reviewed professional journal articles and book chapters. She has been featured on FOX, NBC, and ABC television about cosmetic and reconstructive plastic surgery.
Patients seeking breast surgery, body contouring or facial rejuvenation in Orlando, Florida will appreciate the attentive care and surgical expertise of Dr. Lambie. She has a true passion for making a difference in the lives of her patients.
Because she is a mom as well as one of the top female plastic surgeons in Orlando, Dr. Lambie understands how pregnancy and breastfeeding affect a woman's body, and how rewarding it is to restore and improve breast and abdominal contour and shape.
With her diverse set of skills and experiences, Dr. Lambie can truly appreciate each patient's specific situation and personal goals. She takes time to get to know her Orlando plastic surgery patients and understand their concerns.
A Passion for Work and for Life
Dr. Lambie lives in Orlando, Florida with her family. They appreciate the great sunshine Florida has to offer, and they love spending time outdoors hiking, visiting local attractions, water sports, and exploring the world.
---
Dr. Diana Lambie's Education, Training, and Credentials
Postgraduate Training
Plastic and Reconstructive Surgery fellowship 2004-2006
(Graduated June 30, 2006)
Philadelphia College of Osteopathic Medicine, Philadelphia, PA
Chief Resident PRS 2005-2006
Westchester Medical Center, Valhalla, NY-Burn and Reconstructive Surgery
Wyckoff Hospital, Brooklyn, NY-Hand Surgery
Hahneman Hospital, Philadelphia, PA – Breast and lower extremity reconstructive surgery
St. Christopher's Hospital for children, Philadelphia, PA- Craniofacial Surgery
St. Mary's Hospital, Langhorn, PA-Breast and body contouring cosmetic surgery
General Surgery Residency 2000-2004
Botsford General Hospital. Farmington Hills, MI
Chief Resident 2003-2004
Traditional Internship 1999-2000
Botsford General Hospital, Farmington Hills, MI
Education
Doctor of Osteopathic Medicine, 1999
University of Osteopathic Medicine and Health Sciences
(UOMHS/DMU)
College of Osteopathic Medicine and Surgery (COMS)
Des Moines, Iowa
Wayne State University, 1992-5
Molecular Biology coursework towards Master of Science
Research assistant
Detroit, Michigan
Bachelor of Science, 1988-92
Minor in psychology
University of Michigan
Dearborn, Michigan
Professional Society Memberships
ACOS member 1999 to present
AOA member 1999 to present
MOA member 1999 to present
Sigma Sigma Phi Honor Society – Treasurer 1996-1997 and member 1996 to present
Women's Medical Alliance – Chair Health Fair '96 and member 1996 – present
Publications and Presentations
Lambie, M.D., Vanduzer, S.T., Glat, P.M. – Infantile melanoma: two case studies from St. Christopher's Hospital for Children. 2006, submitted for publication in PRS. Philadelphia, Pennsylvania.
Lambie, M.D., Lam B. – Small Bowel Perforation secondary to suction assisted abdominal lipectomy, case prevention submitted to ACOS 2006. Philadelphia, Pennsylvania.
Lambie. M.D. – Complications of colonoscopy and rate of viscus perforation with conscious sedation, retrospective study 2004. Farmington Hills, Michigan.
Lambie, M.D. – Breast augmentation and rates of complication including deflation risk, retrospective study 2003. Farmington Hills, Michigan.
Lambie, M.D., Hadden, T.J., and Miller, R.E.: Glutamine Synthetase role in adipocyte differentiation. 1992-1995 research assistant. Wayne State University, Detroit, Michigan
Lambie, M.D., Delgado, V.: Mysid shrimp nocturnal vertical migration pattern in the Great Lakes. 1988, research proposal and presentation, first winner in Plymouth/Canton/Dearborn, Michigan competition.